AWE SUMMER is for young artists who want to make art all day every day for at least a week. Students can explore new mediums or perfect their chosen medium. In a studio environment, students work at their own pace and can work on several projects during the week.
9:00 am until 3:00 pm, Monday through Friday unless otherwise noted,
A student can attend one session or up to three sessions. More than one session allows the student to plan and execute more complex projects.
10 to 18 years of age. AWE is for the focused artist who wants to make art everyday for at least a week. Young artists work independently.  AWE teaching artists teach and guide students at each step of their process.
Classes begin at 9:00 am to 3:00 pm, Monday through Friday. Lunch is 12:00-1:00 pm.
Snacks are offered at 10:30 am and 2:00 pm.
Students eat lunch outside. Younger students are chaperoned by AWE staff.
High School students do not need permission from a parent/guardian to go out to lunch on their own. Students in middle school who wish to eat lunch without AWE chaperones, need permission from a parent/guardian.
Options for eating lunch outside are: the Brooklyn Bridge Park, under the Manhattan Bridge Archway and at the Pearl Street Triangle.
Students should bring their own lunch and snack or have money to buy lunch.
A small refrigerator is in the studio.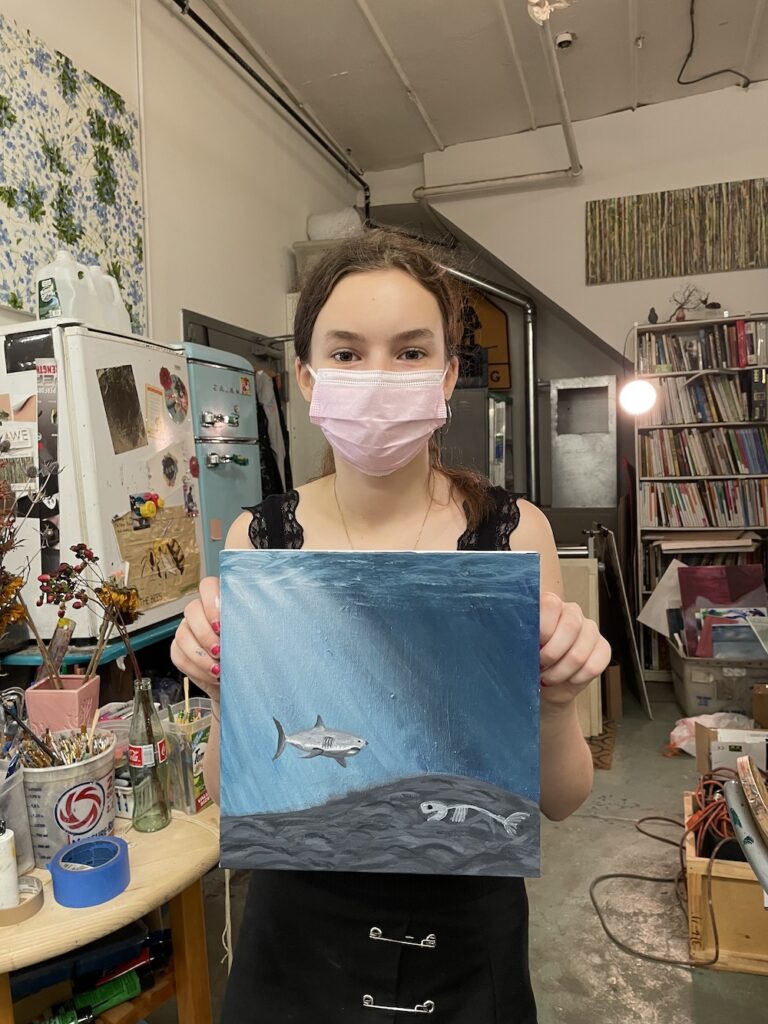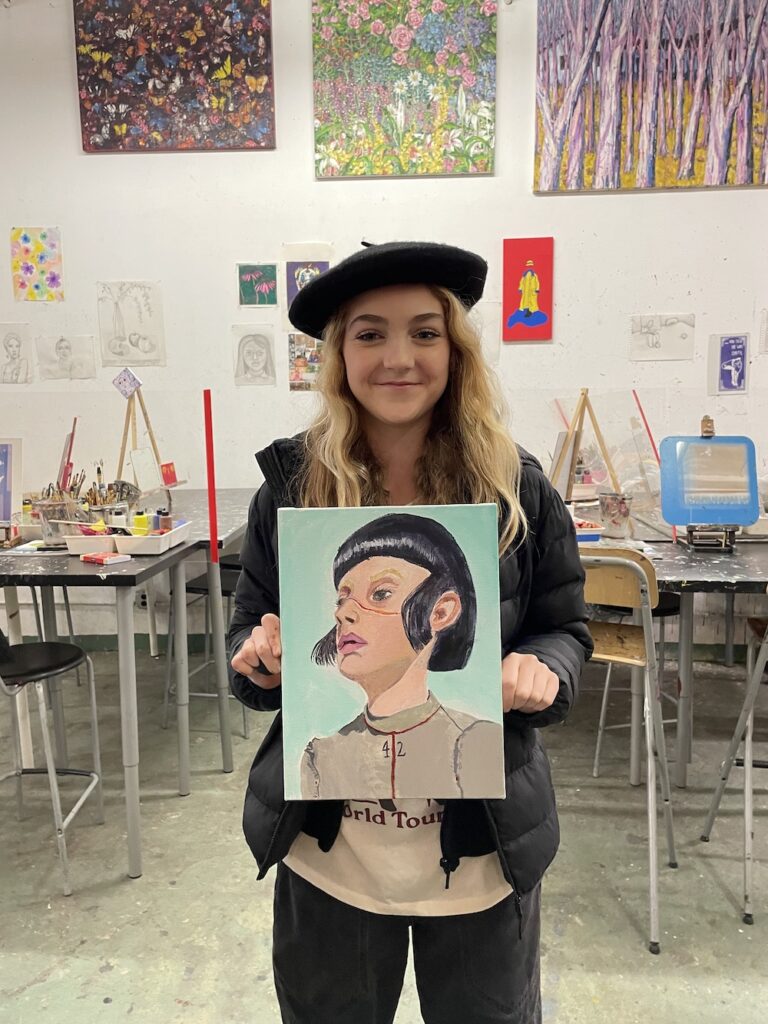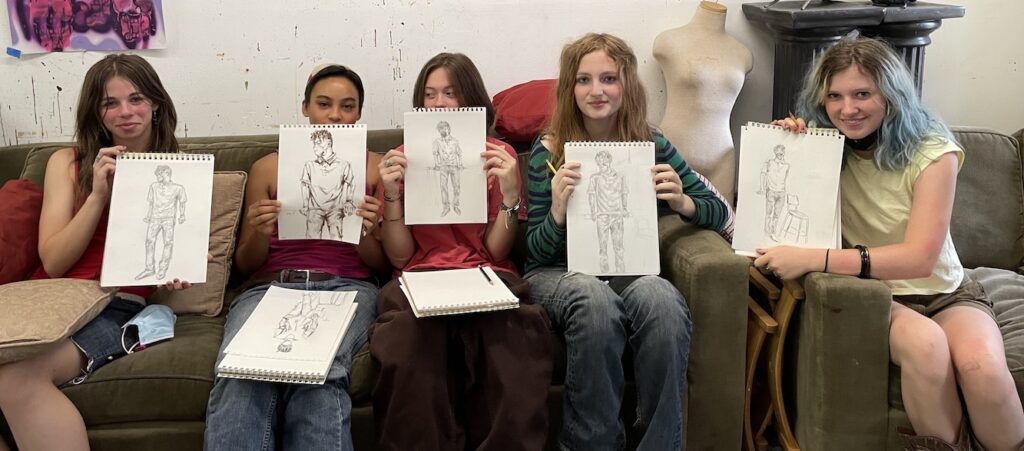 First Day at AWE: It's your first time here so you start a drawing that you are comfortable with. Mid-morning, you go outside with a couple of other students and try watercolor painting at the park. After lunch, you try an art form that you've never done before like, print-making.

Second Day: You're ready to start a painting. You've thought about what you want it to be about but, you'll need help with blending color and figuring out the composition. You search for a visual reference as an aid. In the afternoon, you ink up the print block you carved yesterday and a really nice image emerges. You're learning new things.

Day Three: You're fearless. You've completed three art pieces and like what you're doing. It's hard and rewarding. You get ideas when you see all the art being made around you. You watch someone make a book and you hope you have time to make one before the end of the week. You think about your art when you're home.


Fourth Day: You're going to sew a bag today. You saw someone else do it and it motivates you. You have to manage your time to finish it and all the art you plan to get done by the end of the week. You complete your bag at the end of the day. You add the print you made as a design element on the front flap of the bag.


Day Five: The final day and your last painting is almost done. You're super proud of it. You still have time to make your own personal sketch book. You choose your fabric and add that print you made on the cover. You've created art everyday, all day, this whole week. It was really fun. You want to do it again. Next time, a sculpture and a claymation video.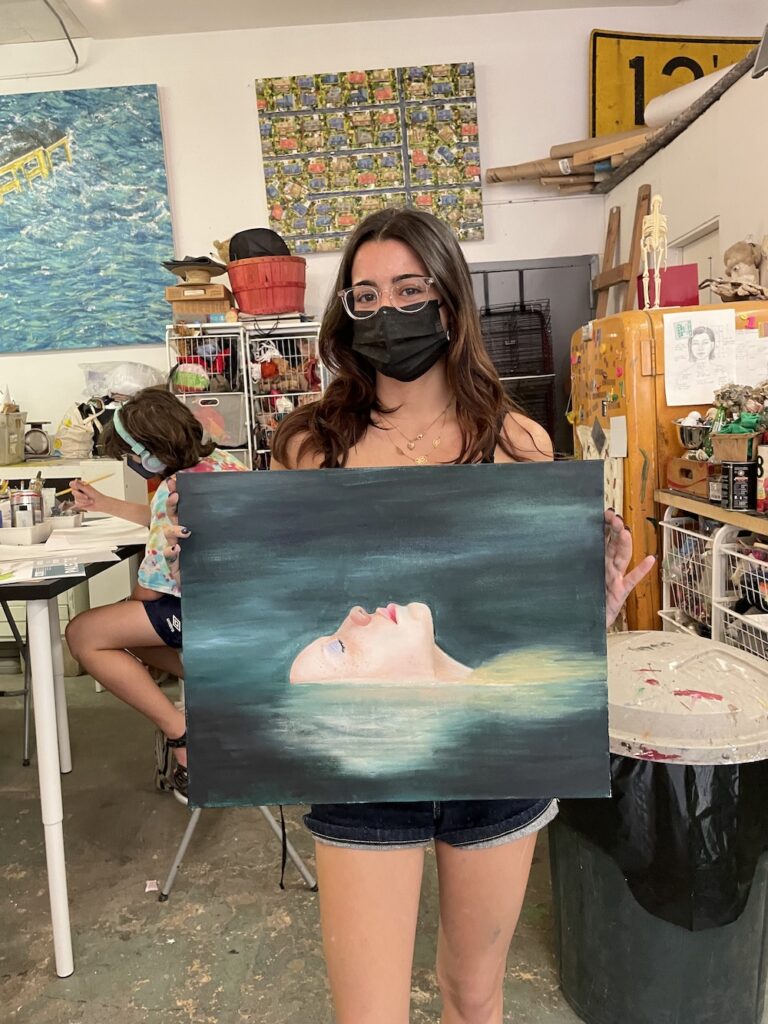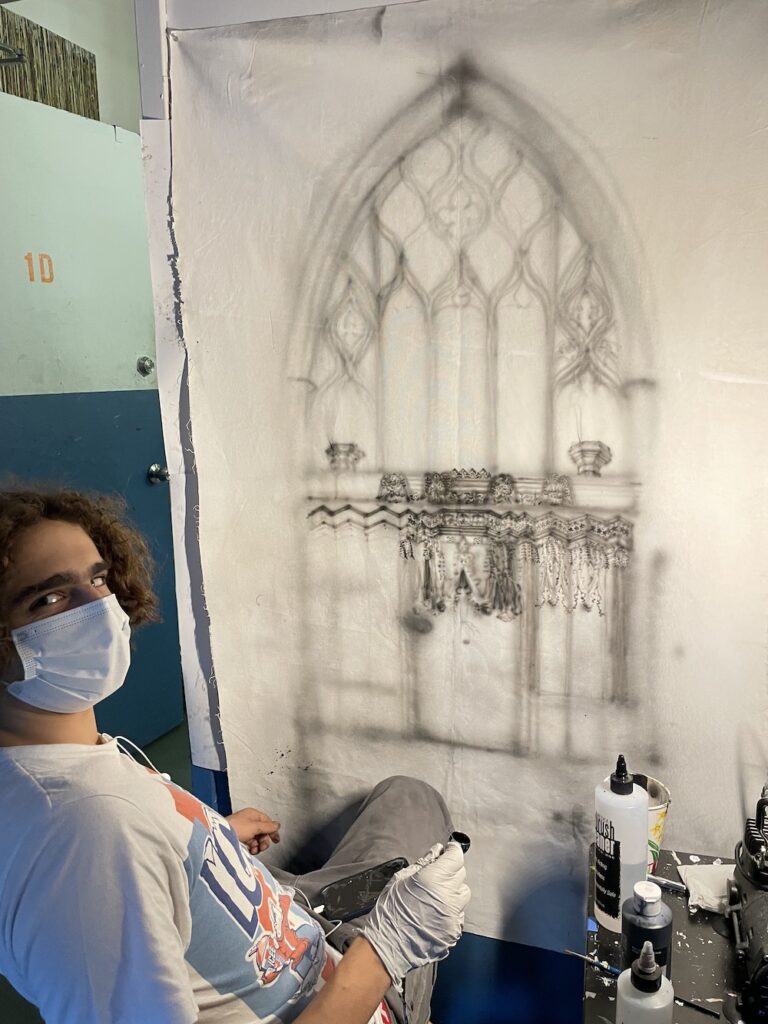 AWE may use photographs of students and/or artwork for its website and instagram.
AWE Summer Offers:
Painting: Acrylic, Oil (age-appropriate), Watercolor
Drawing: Pencil, Charcoal, Pastels, Markers, Ink
Sculpture: Clay, Sculpey, Wire, Plaster, Found Object
Print-Making: Linoleum, Wood Cuts, Rubber, Mono Prints
Aerosol: Air Brush, Spray Paint, Stencil
Textile Art: Sewing, Embroidery, Knitting, Weaving
Collage: Paper, Fabric, Alternative Materials
Mosaics: Tile, Alternative Materials
Book-Making: Fabric, Paper, Alternative Materials
Video: Animation, Claymation, Stop Motion
Photography: Digital, Sun Prints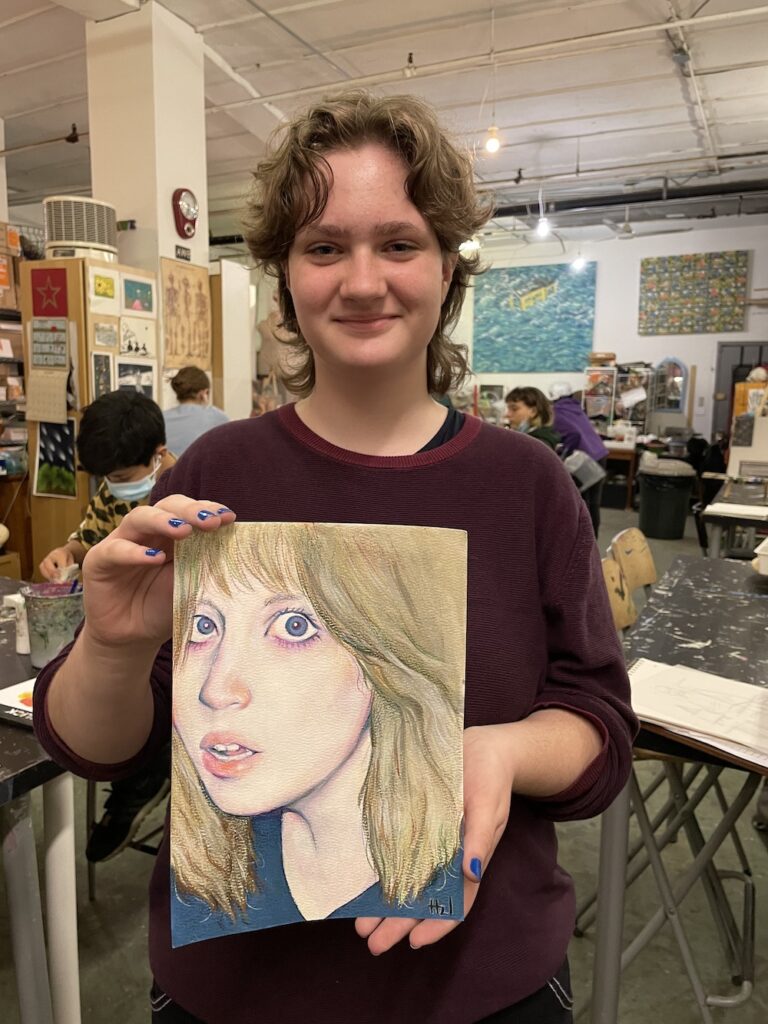 Art materials are included.